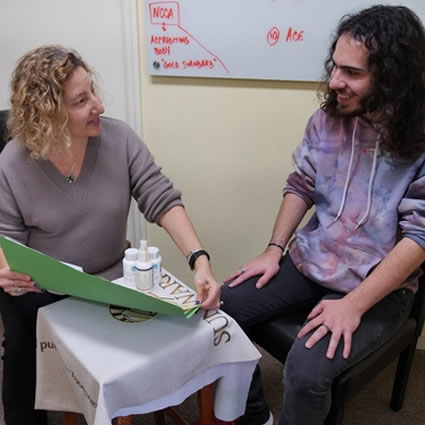 Nutrition in Morristown
If you have feelings of fatigue, are achy or tired, have gained weight or are going through hormonal changes, it's tough to know where to turn. With the nutrition and functional medicine solutions offered at Morris Spine & Sport, we can help you get to the bottom of your particular challenges and overcome them.
Dr. Randi Case looks for the root cause of the concerns you're experiencing, looking at each of the systems in your body. Though we don't treat conditions like diabetes, thyroid disease or hypertension, we see many people who have these symptoms. You may have a deficiency, genetic mutation or your body may be unable to assimilate the nutrients you're taking in.
NEW PATIENTS

We'll delve deep at your first consultations, discussing your sleep, diet, family history, medical history, stress levels and more. Applied Kinesiology allows us to use homeopathic vials to see how your muscles react to them. If your muscles go weak when you come into contact with a particular substance, you may have a sensitivity to it. This form of testing can also be used to determine if you have a virus, fungus, bacteria, pathogen or metal present.
Dr. Case usually recommends an anti-inflammatory diet she has created using research that supports each element, incorporating the best to benefit you. It removes dairy, soy and gluten, which are most commonly tied to inflammatory reactions. After a couple of weeks, we'll check in with you to see how you're doing and make any changes as needed.
Functional Medicine is "whole body medicine" that looks at the body as one integrated system. The main goal of Functional medicine is to identify and address the root causes of illness. By examining the systems of the body and identifying any deficiency, dysfunction, or excess, we can provide the correct intervention (nutrient, medication, lifestyle modification) to help the body reestablish the delicate balance that must be maintained in order for the body to function optimally. Key systems include the Gut-Brain connections, Gastrointestinal system, Endocrine, and Immune system. Some symptoms that can be helped through functional medicine include:

Fatigue
Brain fog
Memory loss
Heat/cold intolerance
Skin rashes, acne, eczema
Autoimmune diseases
Depression/anxiety
We carry a range of supplements in our office to improve your nutrition. They're pharmaceutical-grade with every batch quality-tested and are non-GMO, non-dairy, non-soy, gluten-free, vegan and often kosher, making them as pure as possible.
Get Started Today
Though chiropractic care and nutrition/functional medicine Morristown go hand in hand, you don't have to be a chiropractic patient to have Dr. Case create a plan with you. Contact us today to schedule an appointment!

Nutrition Morristown, Madison, Morris Plains, Mendham and Cedar Knolls NJ | (973) 285-0888