Summus Class IV Therapeutic Laser Therapy in Morristown
Morris Spine & Sport's NEW Summus Class IV Therapeutic Laser works through a method called Photobiomodulation. This means that is uses photonic energy (light) in order to make biologic changes in the tissues of the body.
Our Therapeutic Laser assists in tissue repair and wound healing. Increasing ATP (cellular energy) production in the mitochondria and sending more oxygen to the injured area. This helps to improve blood flow and reduces the fluid buildup that causes inflammation.
Overall, our Therapeutic Laser treatments can help speed up your body's natural healing potential – promoting faster pain relief and reducing inflammation.

Enhanced tissue healing / repair
Decreases inflammation
Increases nerve regeneration
Increases strength of tissues (collagen)
Decreases tissue healing time
Decreases pain signaling / analgesia (pain relief)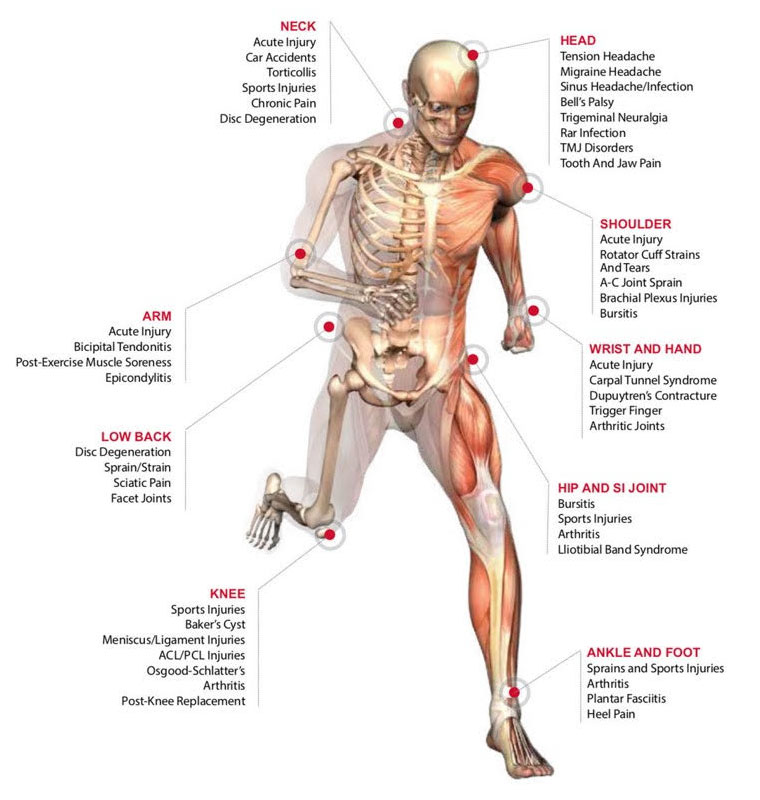 Headaches
Arthritis
Joint pain
Sports Injuries
Rotator Cuff Tears
Shin Splints
Plantar Fasciitis (foot pain)
Tennis Elbow
Frozen Shoulder
Shoulder Pain
Knee Pain
Muscle Sprains and Strains
Neck and Back Pain
Neuropathic Pain
Can it be used on your face?
This is not a dermatologic laser, however, this laser can be used for TMJ, headaches, and some forms of facial pain.
How long are the sessions usually?
Most sessions take about 10 minutes, depending on the area, depth of the tissue and if it is an acute vs a chronic condition – like arthritis.
Some examples of treatment times;
Low back: 7-8 minutes
Elbow: 3-4 minutes
Back of the neck: 4-5 minutes
Does the laser get rid of sunspots or age spots?
This is not a dermatologic laser and we recommend you discuss this with your dermatologist.
Does it have to be applied directly to the skin or can it go through clothing?
This laser does not go through clothing – It must be applied directly to the skin.
How many treatments are recommended?
The number of treatments is different for every patient and depends predominantly on the type, depth, and size of the injured area. Typically, for acute situations we recommend 3-5 sessions and for chronic situations we recommend 10-12 sessions – however, an extended number of sessions may be necessary.
Are Laser Therapy Treatments covered under insurance?
Laser Therapy Treatments are not typically covered under standard insurance plans. However, HSA and FSA programs will sometimes cover this treatment. Ask our office about special treatment packages – Call us at (973) 285-0888 to find out more.
Is laser therapy safe for kids?
Yes, laser can be safely used on children. In fact, studies have shown that the therapeutic laser does not affect the maturation of the growth plates.
Do you offer payment plans?
Yes, Dr. Case's main goal is getting her patient's feeling better and she is willing to make this process as easy as possible. Please call our office at (973) 285-0888 to find out more information.
Our team members Randi, Diana, Connor, and Jim are all certified to provide laser treatments.
Get Started Today
Contact us today to arrange your first appointment and experience the benefits of laser therapy! We accept insurance, including Medicare, and have appointment options that fit into your busy schedule.

Laser Therapy Morristown, Madison, Morris Plains, Mendham and Cedar Knolls NJ | (973) 285-0888