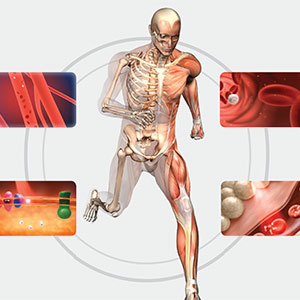 Morris Spine & Sport is delighted to announce the recent addition of a Class IV therapeutic laser that delivers advanced pain relief and enhanced tissue healing.
"Laser therapy is an innovative drug-free and surgery-free solution for our patients," said Dr. Randi Case. She added, "The P4 by Summus Medical Laser, which is what we invested in, is used by many health care providers and professional sports teams throughout the US and the world."
Why the P4 Laser?
Morris Spine & Sport chose the P4 by Summus Medical Laser because it is the most innovative and effective Class IV therapeutic laser. High-energy laser therapy with the P4 safely penetrates deeply into the body to diminish pain and stimulate healing.

Laser therapy provides a safe solution for many people's pain. Dr. Case calls the P4 laser "absolutely the best thing to ever happen to our practice." With this laser, we can help patients get the results they need, with virtually no side effects!
What Are Some Benefits?
Patients who receive laser treatment may experience the following:
Reduced spasms
Pain relief
Increased circulation
Improved healing
A reduction in osteoarthritis symptoms
Improved flexibility and function
How Does It Work?
Laser therapy stimulates the production of cellular energy in damaged cells and enhances cell membrane permeability. This fosters the speed and quality of healing, improves the exchange of nutrients and wastes across the cell membrane, and improves elasticity of injured tissues.
Laser therapy also modulates pain and reduces inflammation. It can safely be utilized immediately on acute injuries, as well as over broken skin and metal implants. Laser therapy enhances the rate and quality of healing of acute injuries, and can help with the resolution of chronic complaints, such as arthritis.
"The Summus Medical Laser is being used in the best health care clinics across the country, and by several professional sports teams, such as the New York Yankees. We are pleased to offer the latest laser therapy technology to our patients," said Dr. Case.
Discover How Laser Therapy Could Help You
Experience for yourself the benefits of laser therapy. Contact our practice today to book an appointment!