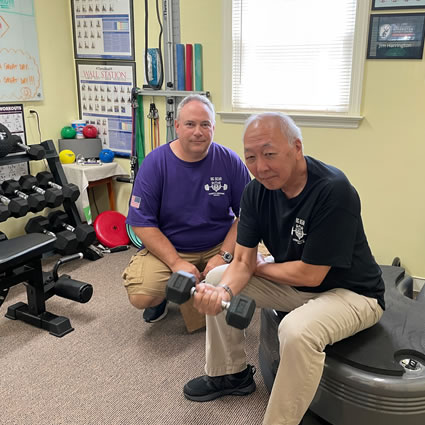 I train people. A lot. Every day. Between the ages of 13 and 82…
Working with a female in her 80's is different than a male in his 30's. And training a Parkinson's male in his 70's is pretty different than working with a female in her teens. These are, admittedly, pretty basic statements. However, there are trainers out there that passionately believe their one-size-fits-all is actually appropriate (and safe?!).
There's no other way to be an effective personal trainer than through true 1:1 program customization for each and every person you work with. No shortcuts! And this is not based upon age alone. Factors such as personal outcome desires, weight, level of activity, underlying health conditions (past and current), injury history, and so on, all need to be factored into the mosaic. Over time, it becomes abundantly clear that providing personal training for anyone, at any age, is a balance of science, art, and philosophy…
What I can tell you though, is that I have not met a client yet who wouldn't benefit from lower body and core work that supports stability and balance. It just looks a little different for each person. When I am working with a road runner (i.e. marathon, half marathon) I recognize that the vast majority of their activity is linear, consistently paced, and frequently on consistently flat terrain. Knowing those runners work very hard at their consistency, it actually makes it extra important for me to ensure they work on such skills as lateral and core stability, overall balance, flexibility, and explosiveness.
Working with people who may not be as active as they once were, and are approaching or beyond middle aged, is different than the prior scenario, but maybe not as much as you'd think. As we age, that uneven sidewalk in the city can be perilous. Same for stairs and generally slippery surfaces. And for folks who may have grandbabies, they're also going to need to have some level of quickness to keep up with the wee ones. So, even though every workout is 100% customized, you can be sure my 'clients of a certain age' are also going to receive a healthy dose of – you guessed it – lateral and core stability, overall balance, flexibility, and explosiveness.
One more scenario? Let's consider the high-end high school and collegiate athletes that regularly train at @bigbearstrengthconditioning. We are currently working with hockey, baseball, soccer, fencing, and martial arts athletes. Can you envision any sport where participants would not benefit from lateral and core stability, overall balance, flexibility, and explosiveness? I can't. An argument can certainly be made that each sport may need a little more of this, and maybe a little bit less of that. But that just further validates how awesome and necessary it is to work with a professional who has decades of coaching and "real world" experience.
Creating and continually refining your exercise plan to help you maximize impact is what I enjoy. I want to help you succeed… the athlete making their varsity team… the new mom regaining her pre-pregnancy form (and coping with a whole new set of challenges), someone in their middle years enhancing their activity levels without painful 'downtime', or seasoned citizens who are striving to avoid or minimize medications while trying exciting new adventures like pickleball or line dancing. Whatever your goals and your situation, I can help you "get there".
We're all in this together. Big Bear Strength & Conditioning and @morrisspineandsport are here for YOU!