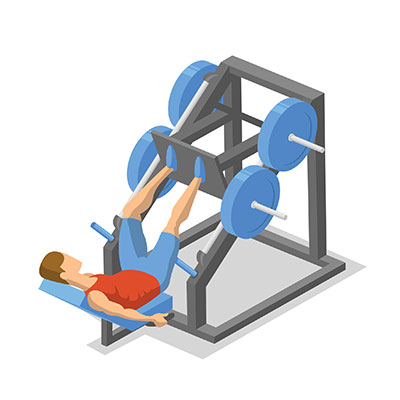 Those of us of a certain age may remember all the hilarity of the Fox sitcom "Married with Children"… One of the recurring themes during that long-running series was Al Bundy (Ed O'Neill) frequently recalling the glory days of long-ago high school days. Specifically, he would regale anyone who'd listen about scoring four touchdowns in a single game while he was at Polk High.
While we were in Florida a couple of weeks ago I had one of those moments, sort of…
After dinner one night we walked around the beautiful interior of the JW Marriott resort we were staying at and we came across the Fitness Center. Now, allow me to be the first to say that since I'm a personal trainer, I probably should have located the gym a lot sooner than I did. All I can say in my defense is "hey, even the Big Bear needs some pool and umbrella drink time…". Anyway, back to my little story.
While in the fitness center I spied an iteration of one of my favorite pieces of workout hardware — the leg press! Mind you, this was a hotel so it wasn't fueled by free weights. But, even though it was a 'universal' machine where weights would be pushed horizontally, rather than pushing up and out at around a 45 degree angle, it was still a leg press. Oh, how the Big Bear used to love the leg press waaaay back in the day (circa 1980's) at the Pawtucket (RI) YMCA and at the University of Rhode Island. At my peak, I was pushing up a little over 600 pounds on the leg press. Few things in life match the rush of endorphins when you hit a new max and/or set a record — personal or otherwise. Pretty awesome, right Al?!
Now, let's leave the romanticized youth for a moment and return to the present… that leg press was calling me. It really was. The place was empty, except for Dr. Case and me, and it was almost like some sort of invisible tractor beam was pulling me towards it. I couldn't resist. Haven't done any sort of leg presses in at least a few years (which is not good). So, against every single thing I preach to all my clients — pace yourself, be consistent, etc. — I jumped onto the machine without any warm-ups, stretches, or anything. I assessed the weight stack. It maxed out at around 370 pounds. I inserted the pin and embarked on a quest to push 330 pounds. After all, didn't want to show off and just push up the whole stack…
What do you think? Did I push the 330? If I did, how many reps — and what happened next…???
Before we get to the good stuff, let's put everything in context..
Don't fall victim to unfair comparisons to your past 'glory'. It's kinda pointless, and even more so when you start spanning 3, 4, 5, or even 6 decades. Enjoy your past memories. Bask in the glory of those old photos that show you in a favorable light and make you smile. But, when it comes to working out as you age, align yourself with a trainer who understands YOUR BIG PICTURE. YOUR REALITY. Someone who will work with you in a truly 1:1 manner to build and continually tweak YOUR PLAN.
Don't do things that you'll regret or cause you physical (or emotional) pain! For at least 99% (nothing is really ever 100%) of people who pass the 50 mile post, my advice is to stick to a sensible program. Think FUNCTIONAL MOVEMENT AND TRAINING. You're not likely to get an invite to compete in the Olympics, right? Right! So adjust your sights accordingly… work on movements that will help keep your blood pressure, glucose levels, and other key markers in a healthy range. Find workout regimens that keep you flexible and fit!
OK. Time to wrap this episode up…
YES!!! — I was very proud of myself for pushing up 330 pounds on the leg press with no difficulty. YES — I am curious as to whether I could have maxed out the machine — I'd rate it at a better than 50-50 shot that I would have totally owned that moment!!! NO — I do not encourage anyone to do what I did; it could have gone horribly wrong, especially 1,000 miles from home. NO — getting even close to 600 pounds on the rack is not even remotely on my radar. I need to take my own advice and focus on attaining/maintaining a fitness level that will support me living a long and healthy life.
Don't be intimidated by how awesome you were when you were younger. Embrace it, but also let it go a little! Live a forward-looking life.
Give me a call (973.520.2033) or email me at jharrington@morrisspineandsport.com and we can discuss your wellness goals and map out an appropriate plan. Not ready to chat yet? No worries, but let's stay connected. Subscribe to my blog and follow me on social media. I'm here for you… let's enjoy the ride, together.
All the best,
Jim
#whatsyourrootcause, #rootcausefmc, #morrisspineandsport, #morristownfuncmed, #guthealthmotown, #healthieryouin22, #holisticbalancedwellness, #MorristownNJ, #MorrisCounty, #bigbearstrengthconditioning, #beabigbear, #getbearfit, #chiropractormorristownnj, #morriselitesc, #msmorristown